Are you done with the email campaign tools and strategies this holiday season? Don't wait for the holidays, as they are more engaging and profitable for their biggest sales events of the year. The best time to start your business email campaigns is now. Remember, if you haven't conceptualized and build specific email campaign tools and strategies for the holidays, then your business could be at risk of losing a massive opportunity for sales and revenue. Nobody wants to lose money, right? Holiday seasons are a great opportunity for any enterprise to offer the best deals that entice customers to stick around and build that income flowing all year round.
To drive sales and traffic to your business online, you need to get your campaigns ready in advance. Though running the standard campaigns won't cut it, so your business needs fresh, unique, and exciting professional email marketing services that customers haven't already seen before.
Driving sales with email campaign tools during holidays require more creativity as people tend to receive more emails than ever before.
Read on to discover some of the unconventional email campaigns to run this holiday season to grab your customer's attention to improve sales like never before.
Plan Early Your Email Campaign
Have you ever thought that is it really necessary to start planning for the holidays so early? Well, definitely!
Planning and running the email campaigns early through email campaign tools for holiday seasons is the key to the immense success of a business and goes a long way. It ensures that your email stands out as compared to other enterprises.
To stand out in the world of competitive marketing and driving valuable clicks during the holiday seasons, all you need to do is to plan, get creative, make strategies, decide your target audience, production management, provide professional email marketing services, and mark your calendars early for holidays to execute your email campaigns better.
To drive large traffic to your emails and sales to your business, you can try out MailRush.io an affordable email marketing platform to create unlimited campaigns, use their professional email marketing services, send bulk emails, design newsletters, create automated emails, and much more. It offers professional email marketing services and is quite an affordable email marketing platform to reach potential customers at a low price. Grab the opportunity today to signup with MailRush.io and drive income to your business.
Give More and Receive A Lot More!
Most of the businesses build email marketing campaigns around the holiday season that are absolutely the same that says something like "get your hands on X and get 10% off" if you spend a fortune. Instead, you're asking your customers to buy without providing them with something in return. In short, you're building a purely transactional relationship with your customers. But unfortunately, transaction-based relationships don't encourage positive brand image. Ensure to run professional email marketing services and customize email campaigns to your users.
For instance, showcase to your loyal and potential customers that you notice them and how loyal they actually are. Reward your loyal customers at the end of your email instead of forcing them to splurge. Give them a great discount coupon or offer that is worth their time, and they can actually use them. This professional email marketing service fosters more loyalty, recognition, and drives great sales to the business.
Use Urgency To Boost Sales
Using urgency during holiday becomes an effective email campaign tool and a professional email marketing service to boost sales. This tik-tok (time-limited) holiday offer encourages visitors to buy things quicker because nobody likes to miss out on the offer. This countdown theme encourages visitors to grab a huge discount before the sale ends. The fear of missing out is a great technique to grab attention and increase sales.
Using an email campaign tool, you can segment your audience according to the products they purchase to send them relevant offers. You can also display holiday discount codes with a countdown timer to turn your visitors into your customers.
Get More Interactive
Add more interest and flair to your holiday messages this year with visual and interactive elements like GIFs and memes. This way, it will build engagement and help to drive attention and generate more leads this holiday season.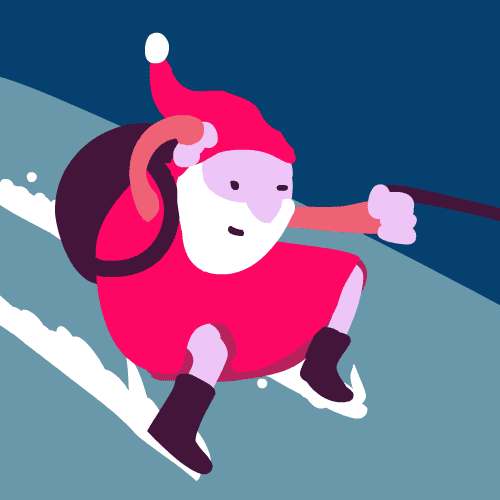 Here's Your (Holiday Name) To-Do List
So how do you plan to improve the user engagement rate during the holiday season? Creating a well-designed to-do list that your audience will actually enjoy checking and going through is one effective way. This professional email marketing tactic is more interactive and personal to users.
In fact, customers don't expect to get such emails from businesses. This would show that to-do list email has been made by those who understands the needs of their target audience. This affordable email marketing itself easy, and customers who willingly engage with it. Consider using hashtags, abbreviations, or phrases people use in their daily conversations to make your marketing more natural and relatable.
So, you are ready to run an email campaign! Now, it's time to draft your stunning holiday newsletters. Create a professional and engaging email using email campaign tools to build your audience base using various cool features like- template editor, spam score check, email validation, and much more. What are you waiting for? Create stunning and professional email templates and give wings to your business this holiday season.